Connect personally with customers to win more business
.
Create tailored, personalised documents & proposals from
centrally approved marketing collateral, anywhere, anytime,
effortlessly.
Keep the peace between sales and marketing
.
Create impact by sending relevant
and compelling documents
Interesting... tell me how
Connect with your customers in the right way, at the right time, with the right information.
Simply upload and share PDF documents within Unify, allowing users to pick and mix only the information they require to deliver tailored, personalised marketing to specific audiences. All bound together with custom personalised covers for each individual user or client.
97% of U.S. corporate executives say customers want an efficient—that is, fast, cost-effective and personalized—level of experience (Lithium)
Ok... why is this important?
Engaged consumers buy 90% more frequently, spend 60% more per transaction and are five times more likely to indicate it is the only brand they would purchase in the future. All of these factors lead to engaged customers delivering three times the value to the brand over the course of a year (Rosetta)

Sales Teams
Respond faster with relevance and impact to win more business. Create and send personalised sales documents & proposals from any mobile device.

Marketing Teams
Get more value from your marketing spend by reusing existing assets to dynamically improve sales performance along with consistent brand image.

Companies
Keep the synergy between your sales and marketing teams. Be in control with fixed costs and no contracts, to help your company grow without the growing pains.

Franchisor
Make sure that your brand guidelines are constantly applied, plus easily distribute and manage your marketing content throughout your network.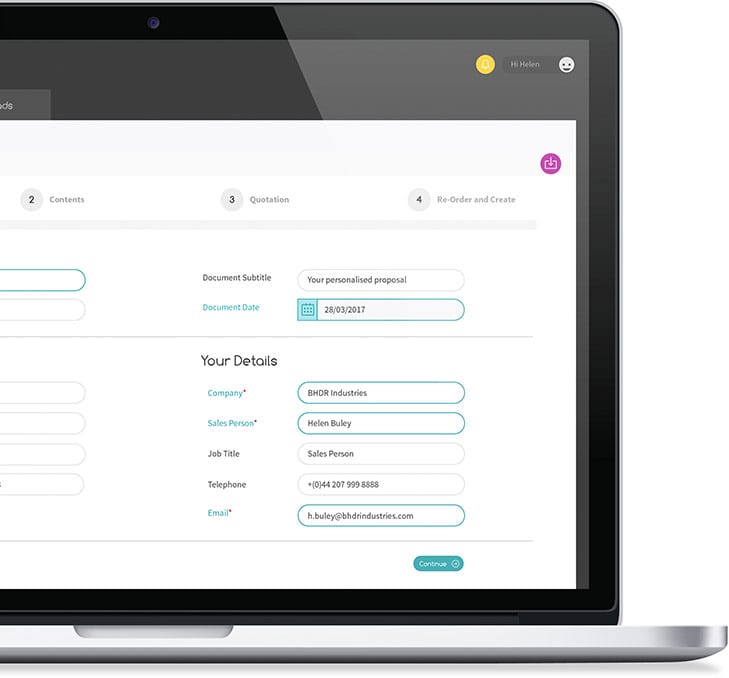 Every user or office can have as many different tailored Sales Tools as required to fit their individual sales process.
Interesting... tell me more
Once a Sales Tool has been set up, users can pick and mix relevant sales and marketing information that has been uploaded to that Sales Tool. By just ticking a few boxes you can deliver bespoke, personalised marketing to specific audiences, connecting with your customers in the right way, at the right time, with the right information.
Work within brand guidelines
.
Keep track on what your team is sending out to prospective clients. When you update a document, it is immediately available in the chosen SalesTool™.
Impressive... tell me more
Each user or office can have their own branding on front and back covers, this is where the personalisation happens, all customer information is inputted via fields on the Sales Tool along with the user's individual contact information automatically pre-loaded, no artwork or design skills are required. Perfect when distributing and managing sales and marketing material across different branches or reseller networks.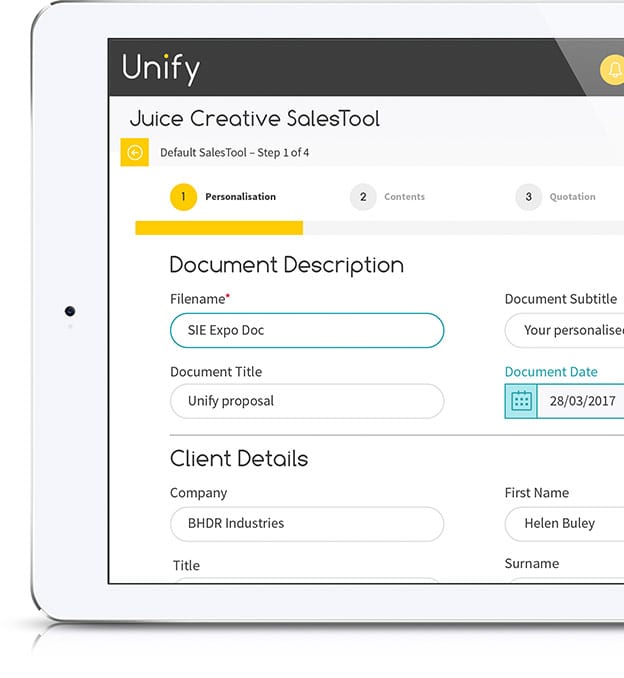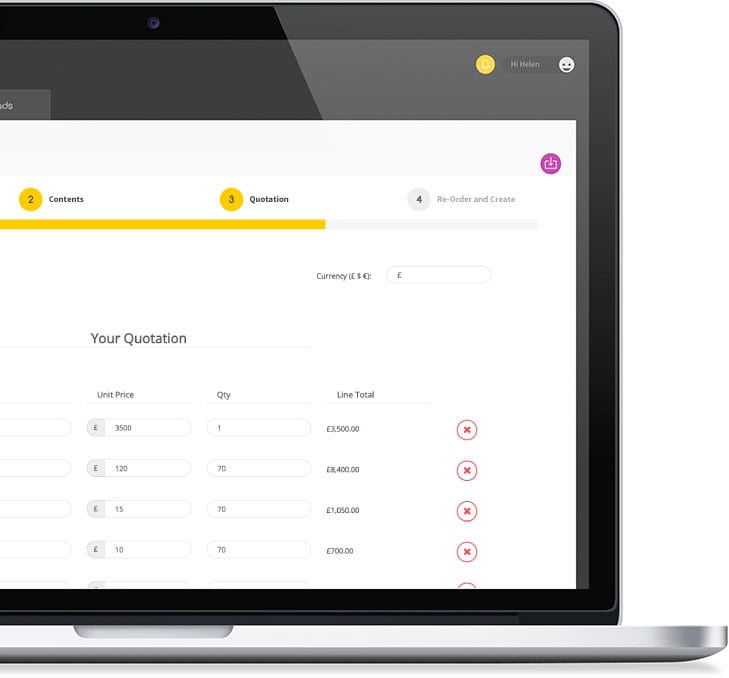 Have the right tools for the job
.
Should you need to supply a quote or estimate along with your personalised bespoke document, our QuoteTool™ is easy to set up and gives users this extra option.
Great... can I customise it?
Everything within our QuoteTool™ is editable. The quote headings, currency, unit prices, sales tax and discounts can all be adapted to suit your requirements. Allowing users to choose as many or as few lines as they require, so they can put together quotes or estimates fast, out in the field or in the office
Over 800 users across 5 countries Always know what you'll pay, no long term contracts.
Free
Perfect to trial the system or occasional users.
SalesTool™
QuoteTool™
Activity Log
Multiple users
Multiple offices
Unlimited docs for 30days*
1 office included
1 user included
*After 30 days you can create 1 document per week for free.
Individual
Perfect for start-ups and entrepreneurs.
SalesTool™
QuoteTool™
Activity Log
Multiple users
Multiple offices
Unlimited documents
1 office included
1 user included
Team
Perfect for smaller teams with 1 office.
SalesTool™
QuoteTool™
Activity Log
Multiple users
Multiple offices
Unlimited documents
1 office included
2 users included
Enterprise
Perfect for larger teams over several offices.
SalesTool™
QuoteTool™
Activity Log
Multiple users
Multiple offices
Unlimited documents
2 offices included
5 users included
Frequently asked questions
HOW CAN I UPGRADE MY PLAN?
From the Subscriptions button in the user menu you can upgrade your plan at anytime. You can also add additional Document Slots, Sales Tools, Branches and Users at any point in time.
WHEN WILL I BE BILLED?
Our free account does not require a credit card.
All other accounts require a credit card at setup and you will be invoiced on the date your free trial expires, recurring each month thereafter.
WHAT IF I UPGRADE MY ACCOUNT, WHEN WILL I BE BILLED?
Any extra users or upgrade to your account will be prorated and billed at your next invoice date.
WHAT FORMS OF PAYMENT DO YOU ACCEPT?
Visa, Mastercard and American Express.
WHAT HAPPENS WHEN MY FREE TRIAL EXPIRES?
We don't ask for your credit card up front for the free account, so we can't charge you until you decide you want to purchase Unify. You're always in control. At any time during the trial, or when the trial is up, you can decide what you want to do. If you want to upgrade, we'll ask for your credit card then. If not, no problem — you can carry on using Unify after 30 days, but with only the options listed on the free account.
If you have a trial of the Individual, Team or Enterprise packages you will be charged automatically the day after your trial ends unless cancelled. There are no contracts so you can cancel anytime.
WHAT ARE YOUR SUPPORT HOURS?
We provide great support as part of the service, Monday – Thursday 9 AM – 5:30 PM GMT/BST and on Fridays 9 AM – 4 PM GMT/BST via the support portal within Unify.
CUSTOMER SUPPORT AT HAND?
We understand that when you've got questions, especially when you're on a tight proposal deadline, you NEED answers. Our customer service specialists are at the ready with friendly, helpful, timely support by email.
We're here to help, regardless of which you plan you're on or if you're just taking us for a test drive.
HOW IS MY DATA KEPT?
When it comes to protecting your private information, we've got it covered. We partner with Amazon Web Services, use 128-bit SSL encryption, and create daily backups. And we never, EVER disclose any data to third-parties without your permission in accordance with our terms and conditions.
WHICH BROWSERS ARE SUPPORTED?
The usual suspects. We support the latest versions of Chrome, Safari, Edge and Firefox on Windows and Mac OS.
WHAT LANGUAGES ARE SUPPORTED?
Unify supports the use of all languages. However, the main interface is currently only in English. If you require another language please contact us.
More Info
.
To find out more about Unify and what it can do for your business please get in touch. We are based on the Essex/Hertfordshire border
If you are passing, pop in for a coffee. Don't worry we only serve the best!
Address: The Foundry, Parvilles Farm, Sparrows Lane,
Hatfield Heath, Hertfordshire, CM22 7AT, UK
Phone: +44 (0)1279 732436
Business Hours: 9am – 5:30pm GMT/BST Monday – Friday