"Felsted has recently had a brand refresh, we invited agencies to come in and pitch their creativity and ideas. Part of our selection process was an internal list of questions to help us score the process. One of these questions was, 'what is different and unique', this is when Libris won the day. The other agencies had nothing like it, Libris would give us that personal touch when marketing to prospective students, something that has never been done before in the history of the school".
Sophy Aitken – Head of Marketing
Felsted are proud of their outstanding pastoral care and the strong and effective partnership they have with parents. Every student is individual and in their 'home from home' every boy and girl is exposed to a wealth of opportunities. Student's talents are nourished and every individual's personal growth is encouraged to flourish in an atmosphere of diversity excellence, and intellectual curiosity.
With their new prospectus, Felsted wanted to capture all of these things to create something more personal and tailored. Their goal was to show potential parents and students that Felsted is the perfect fit for them. They wanted to find a way to encapsulate the individuality and personality that every student brings to Felsted and to put that into each and every prospectus they send out.
Historically they produced a main prospectus brochure along with individual brochures for each entry point into the school. They would then put the required items together in a pack and sent out in the post. With all these different variations there were subsequent design, artwork and printing costs. It also created considerable work for the Admissions Team as they would need to hand pick and collate everything before sending out.
Working with new creative from the start allowed us to take full advantage of the Libris System. Personalisation is not just about putting someones name on the cover, Libris allows the school to choose the most relevant content by simply selecting from a choice of options, such as Prep School, Year 7 entry, Senior School and Sixth Form. All these choices are linked to pages in the system that go to make up the prospectus brochure. Users can even tailor the choice of certain images based on a child's interests. If they favor sport more than the arts, the user selects sports and the default images change automatically. It even adds personalisation to an image on the page. On one of the introduction pages there is a picture of a school tuck box, the system automatically retouches the image with their name added to it. The image now looks very personal with the child's name on the front of a school tuck box.
The Admissions Team use a simple online interface that allows them to personalise each brochure, they also have a print on demand option, the secret weapon. Not only do Felsted save money on printing and storing less copies, but they can push a button and send a 'one-off' personalised copy to press when needed, this helps keep costs down and allows each brochure to be tracked back to a potential student. They can also create a PDF to email out if they don't want to print. The system is also a great support to their international sales team, because it is online and easy to use, PDFs can be created and sent out from anywhere.
When sending a brochure to print, the system automatically paginates all the pages, creates a high resolution PDF, along with a covering letter and postal address label, then sends directly to a third party digital print company. This is then printed, collated and mailed out, saving the Admissions Team valuable time. Everything that has been created is saved on the system, giving the Admissions Team all the information they need to follow up.
Drag the line across the image below to see how personalisation transformed the Felsted prospectus, including the text change on the tuck box image and image change depending on the students preference.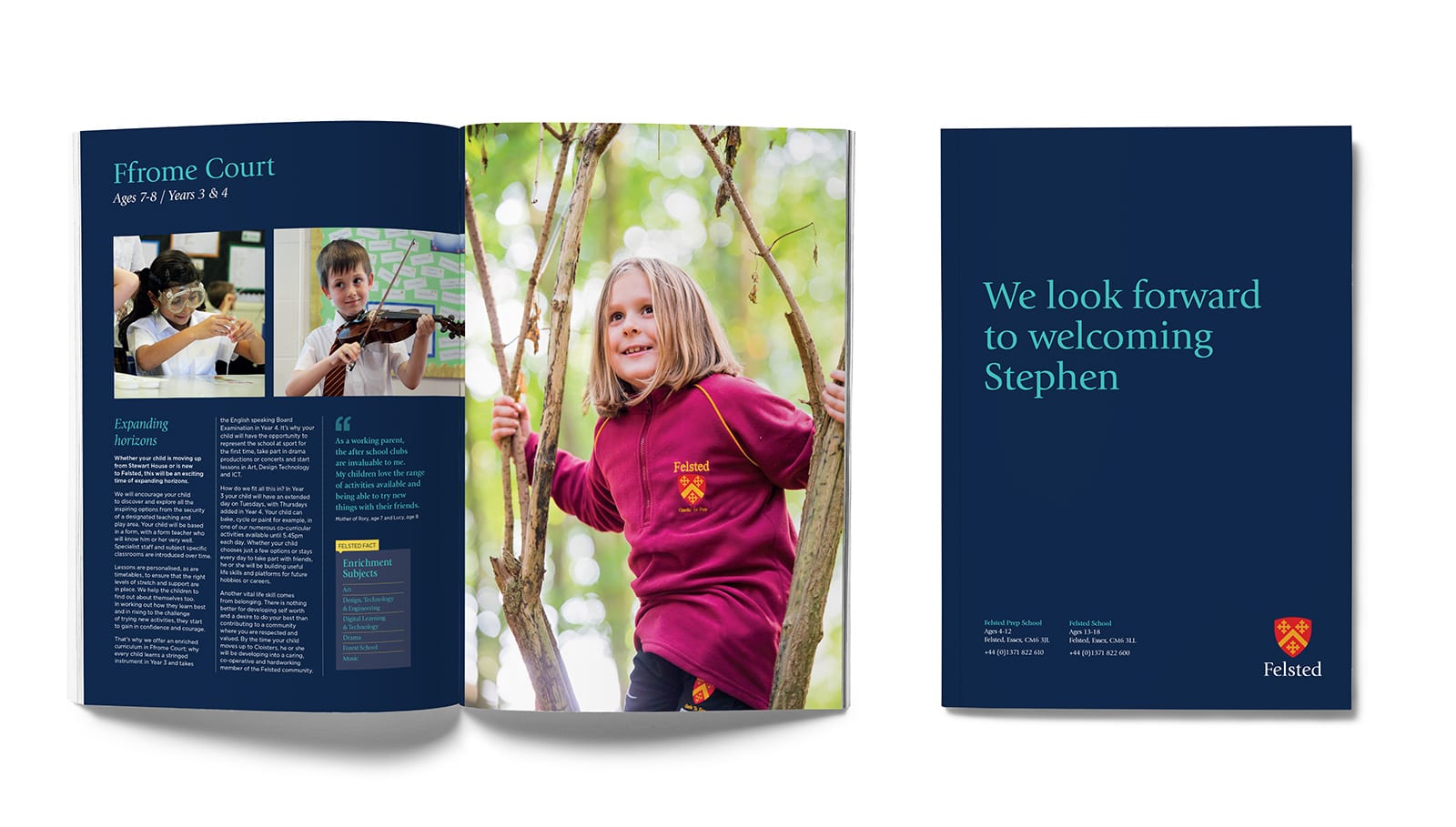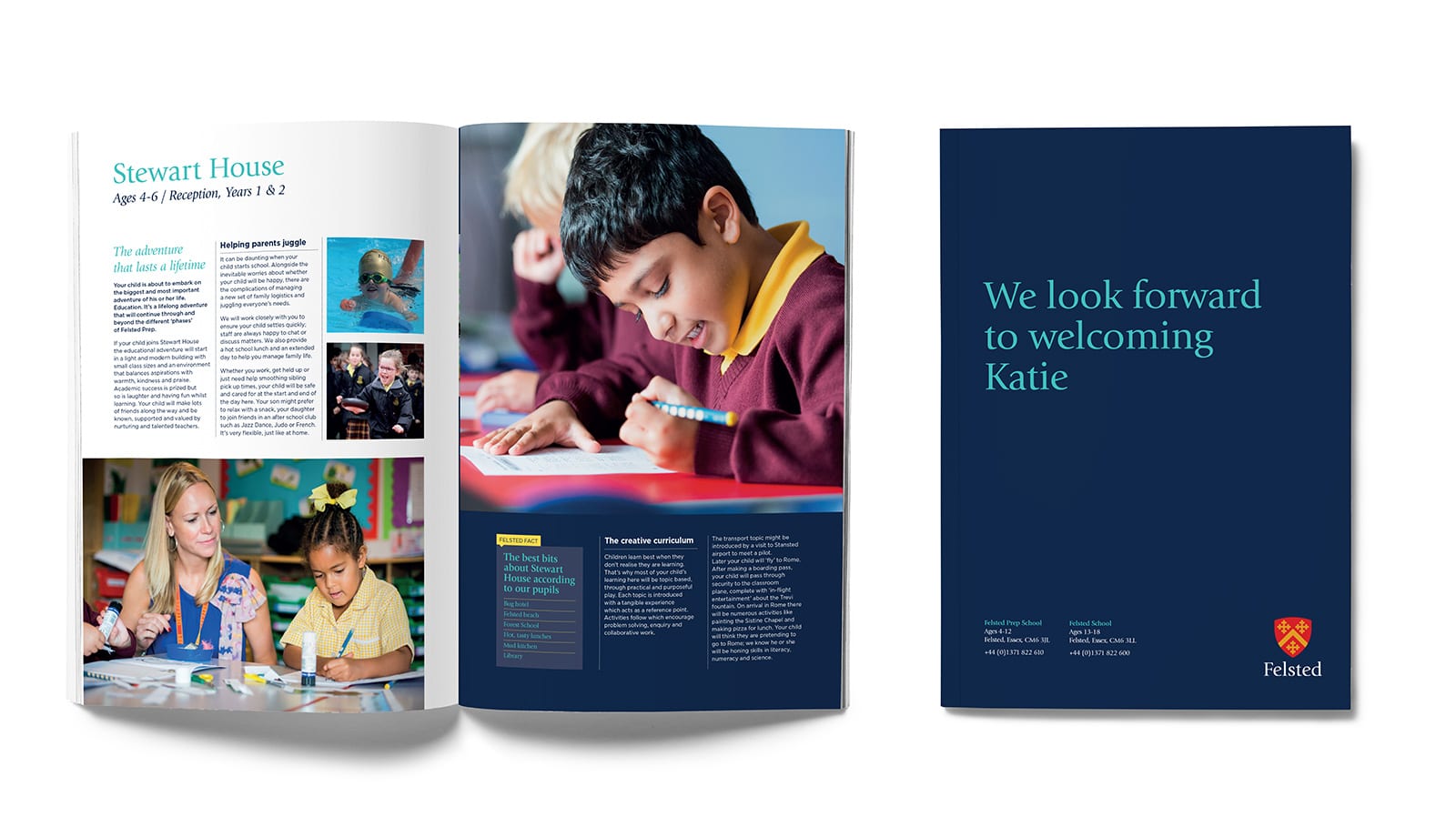 More Info
.
To find out more about Unify and what it can do for your business please get in touch. We are based on the Essex/Hertfordshire border
If you are passing, pop in for a coffee. Don't worry we only serve the best!
Address: The Foundry, Parvilles Farm, Sparrows Lane,
Hatfield Heath, Hertfordshire, CM22 7AT, UK
Phone: +44 (0)1279 732436
Business Hours: 9am – 5:30pm GMT/BST Monday – Friday