Let us show you how easy it is to create a bespoke personalised prospectus using Unify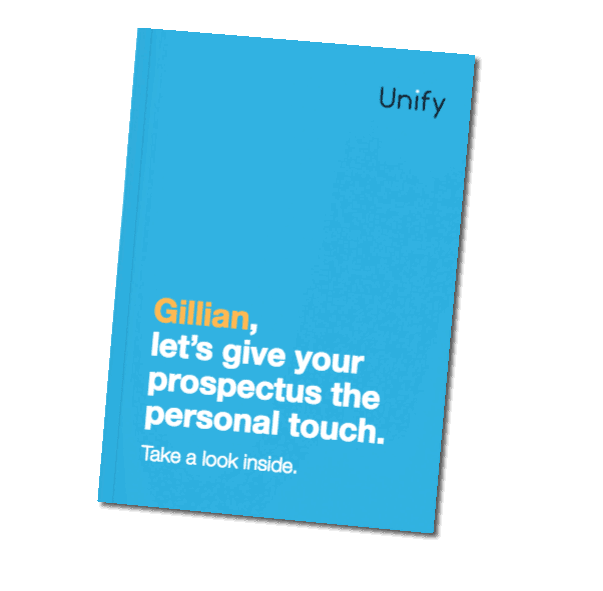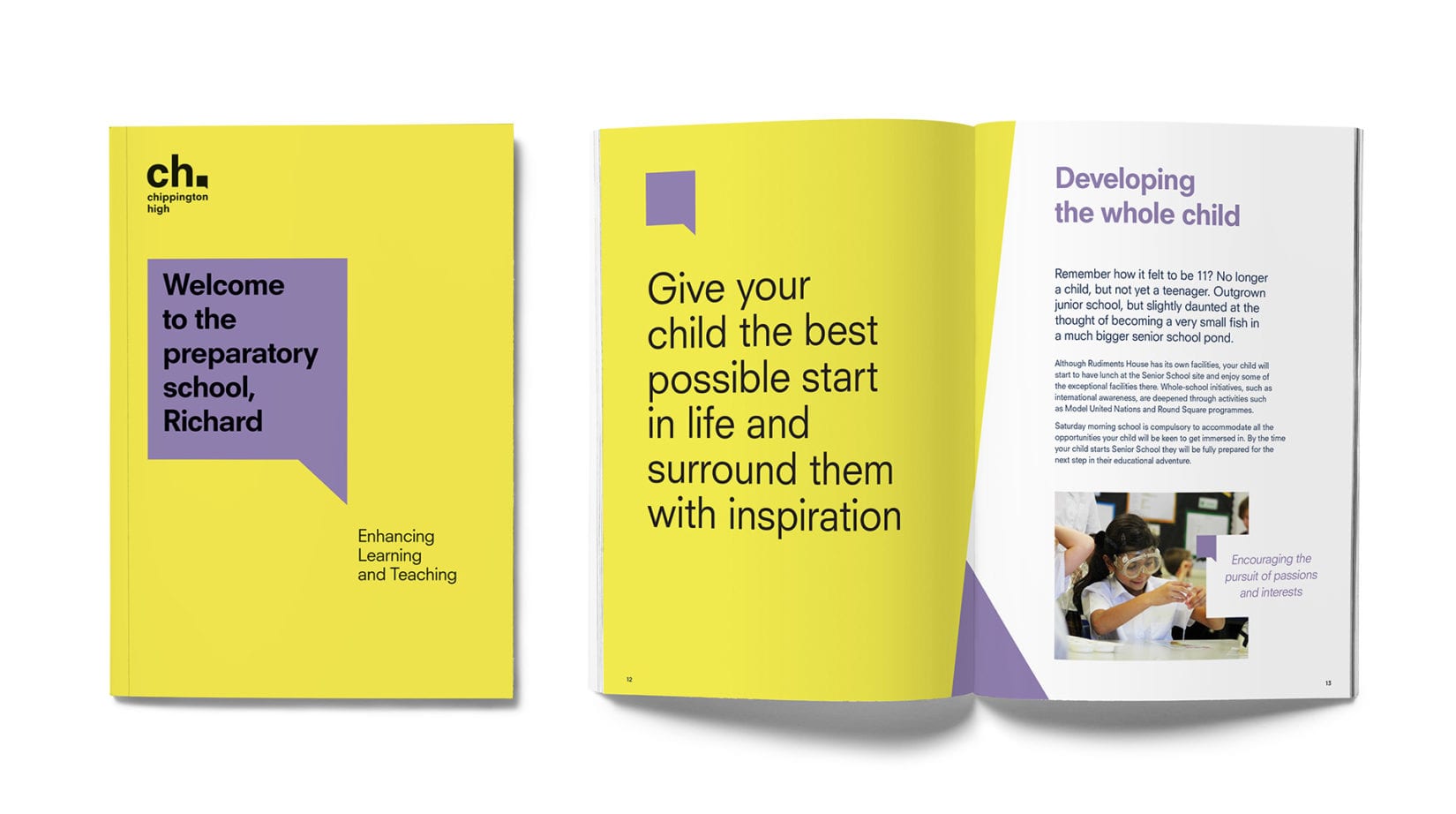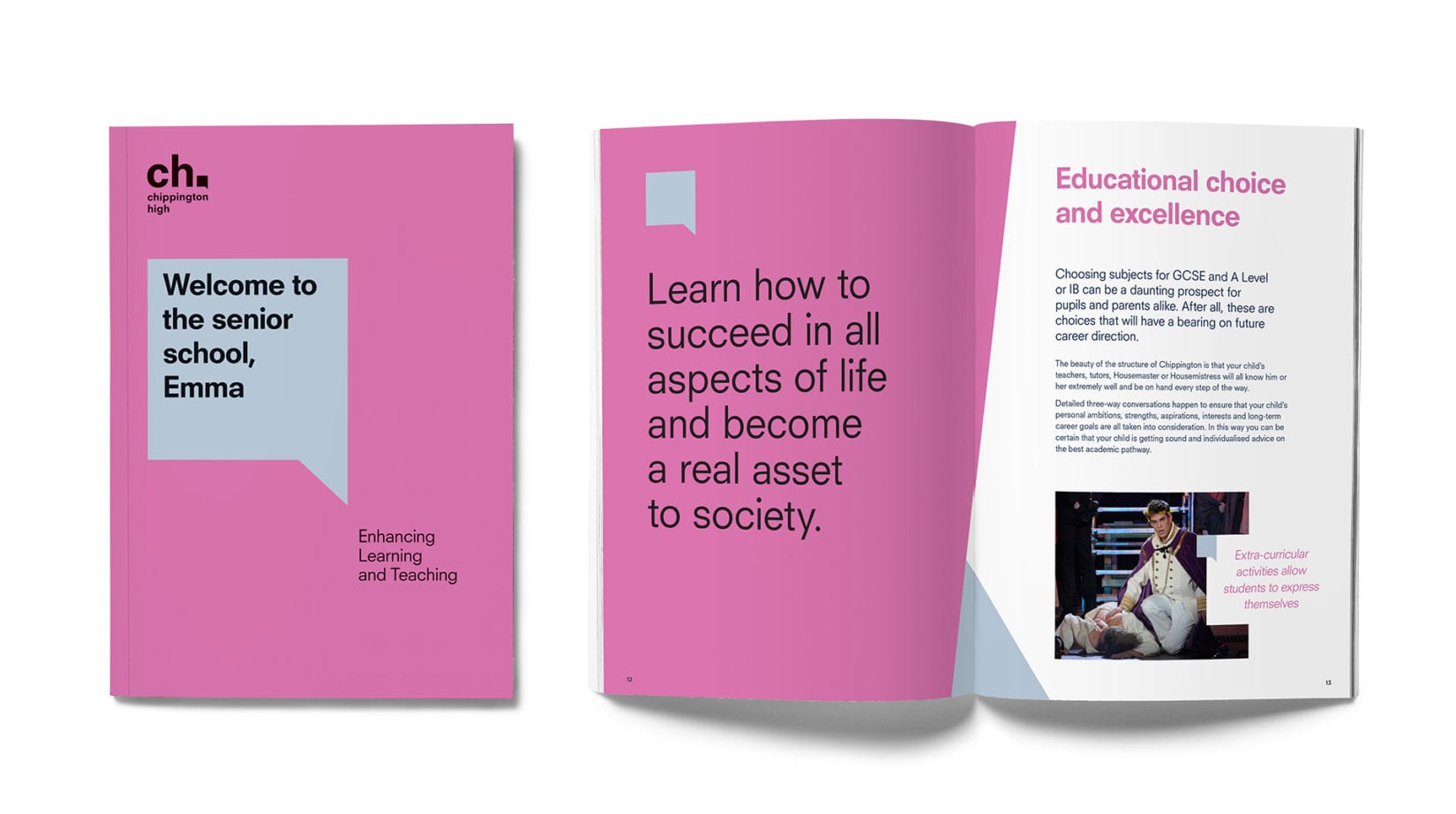 Drag the line across the image below to see how personalisation can transform your current prospectus, simply done by typing the recipients name and clicking a button within Unify.
An engaging experience is essential from the very first interaction a family has with the school. Getting it right goes a long way to securing a visit from future students.
Your school, (like many other schools) probably have internal admission and marketing processes that are practical, yet result in having to send out generic marketing material, that lacks personalisation.
There's also the factor of busy schedules and a stretched admissions and marketing workforce – time is something that every marketing department sadly lacks.
By introducing better processes and solutions we can help save some of this precious time for your school admissions team.
Every school has something unique they're renowned for: either awards, history, location, even staff. Schools rely on these elements to attract new students. So, why not leverage where you can and create something unique and personal every time.
Unify is a
simple
time saving
tool
that enables educational institutions
to create
and send
bespoke prospectus
to every student. This creates a compelling first impression of your establishment and future kinship
.
Tailor your school prospectus
to match each and every student
Drag the line across the image below to see how tailoring the content to the recipient can transform your current prospectus, simply done by selecting options and clicking a button within Unify.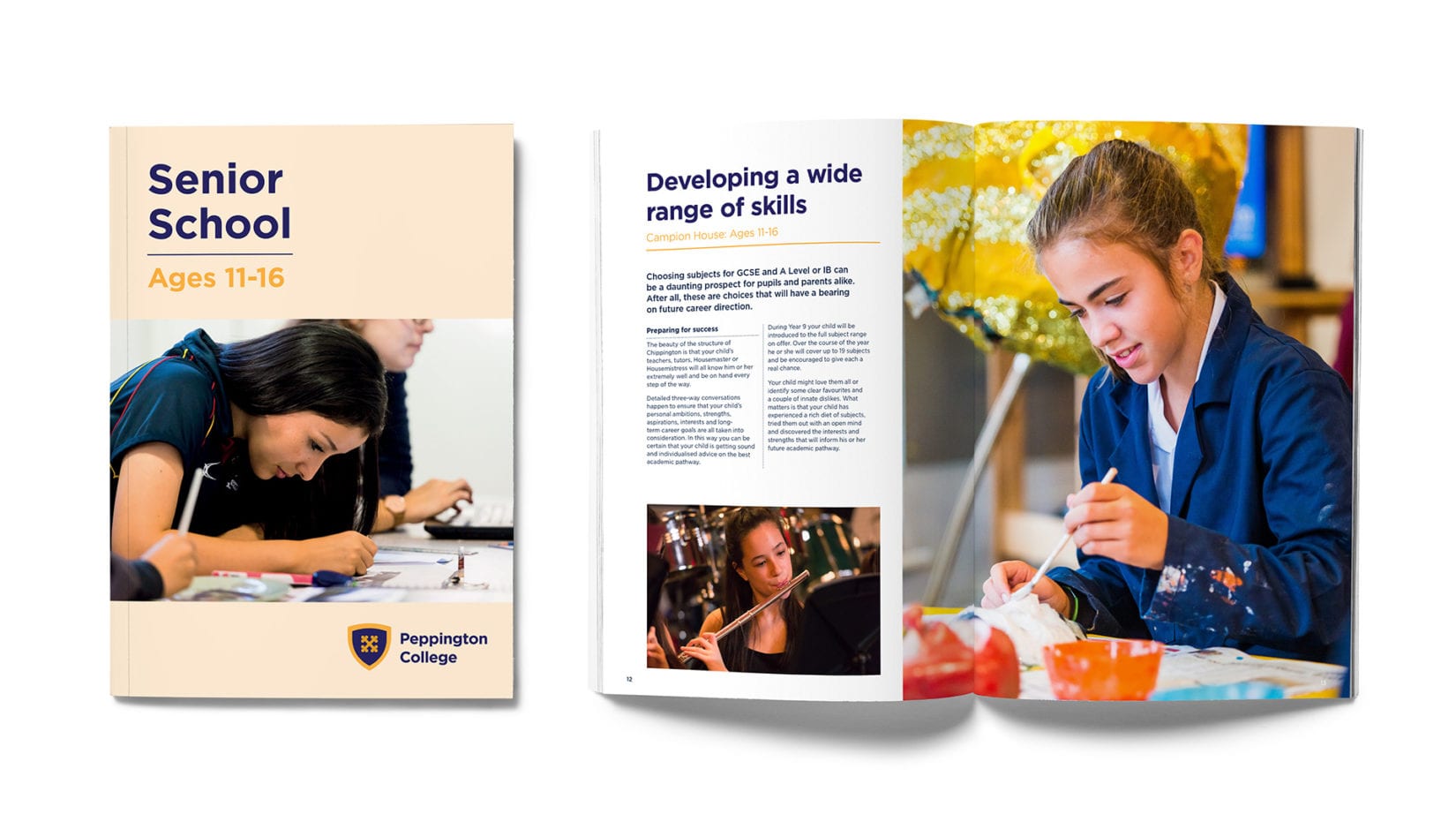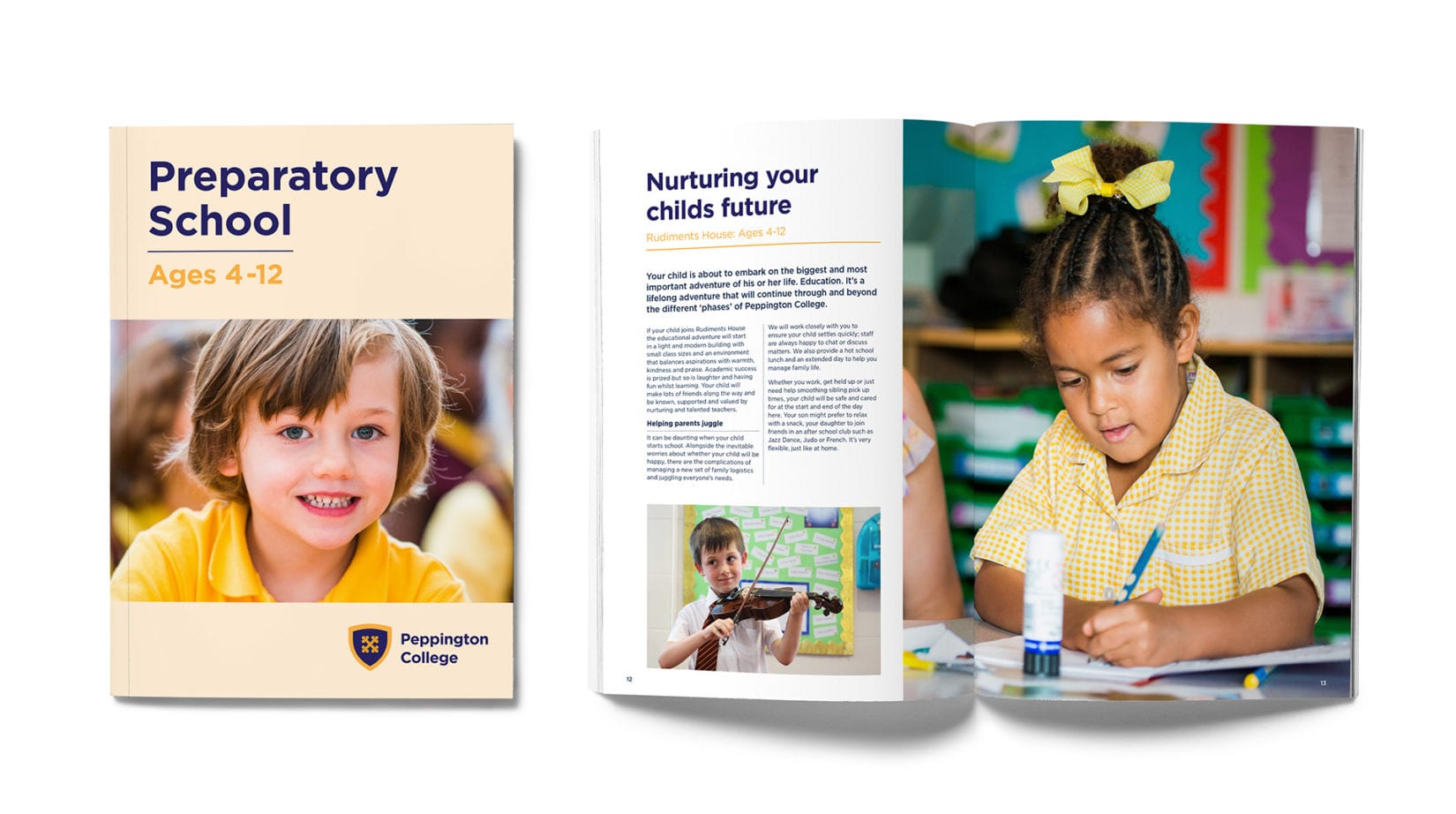 As you know a lot of effort goes into producing a great prospectus brochure. Making sure it's appealing, delivers a message that resonates with the student and parents. Plus paints a great picture of their future home-from-home – not always an easy feat.

Unify gives your school the opportunity to enhance its prospectus brochure, while using your existing design files – its cloud based technology allows you to control and manage your marketing material from anywhere, at anytime.
How would you like to see what your admissions team are sending out, to who and when? Unify enables you to see all the data you need to manage and attract that new students.
Let us show you how easy it is to create personalised prospectus brochure using Unify.
Input key contact information
Unify adapts to suit your individual school requirements. As well as enabling you to input general contact information, such as name, address and date, you can also personalise with other information, such as students name, age, favourite activities,
even down to what house they will be in. Any relevant information to your school can be used to generate something unique and personal.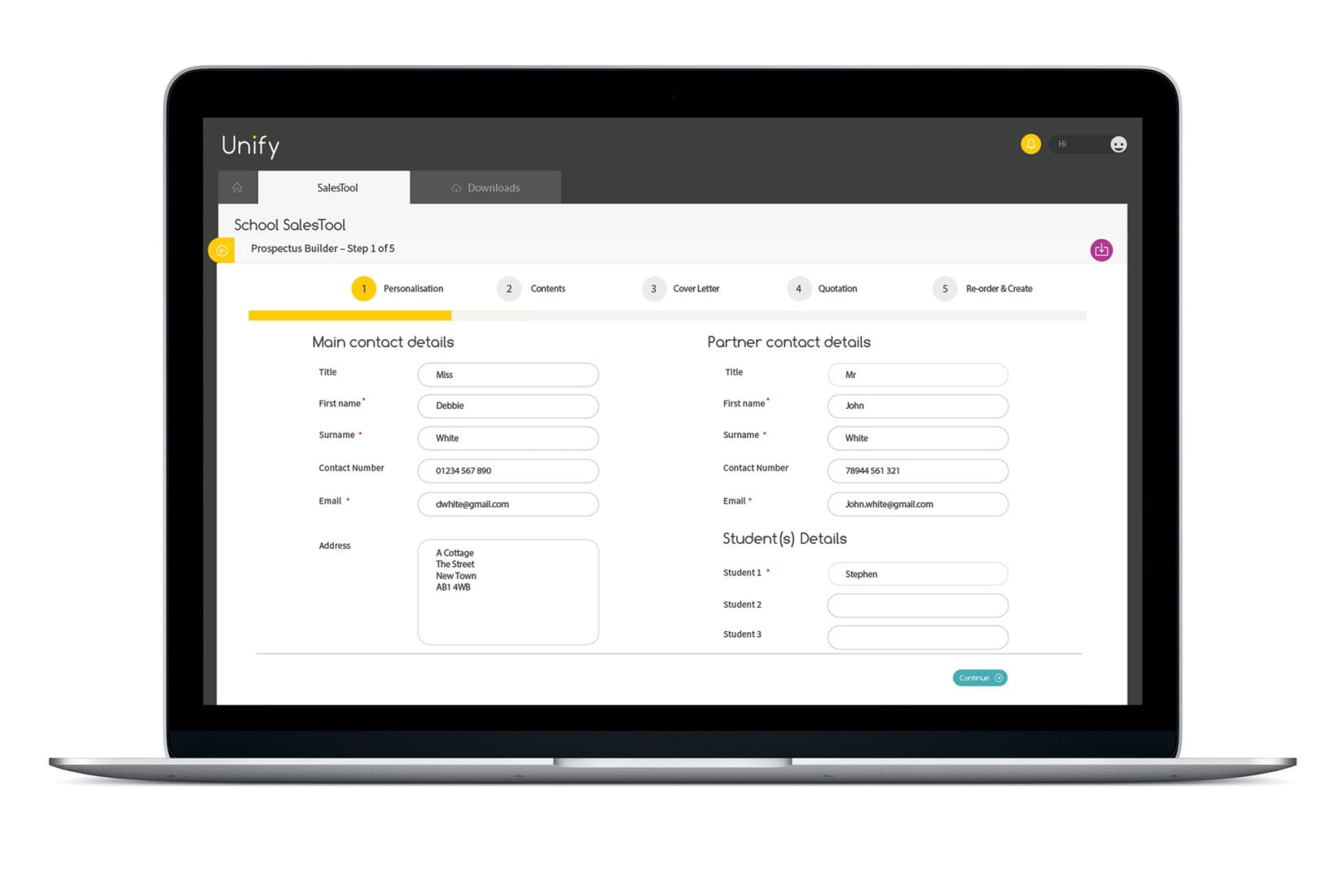 Select the relevant content from
your online library
Having all your marketing material (e.g. school prospectus brochure, international brochure, summer school brochure, etc) online and accessible, gives you and your admissions team the ability to select and create something unique and relevant for the student.
With a simple search and check box function, it's quick and easy for anyone in your admissions team to find exactly what is required. The result? A huge saving in time and money.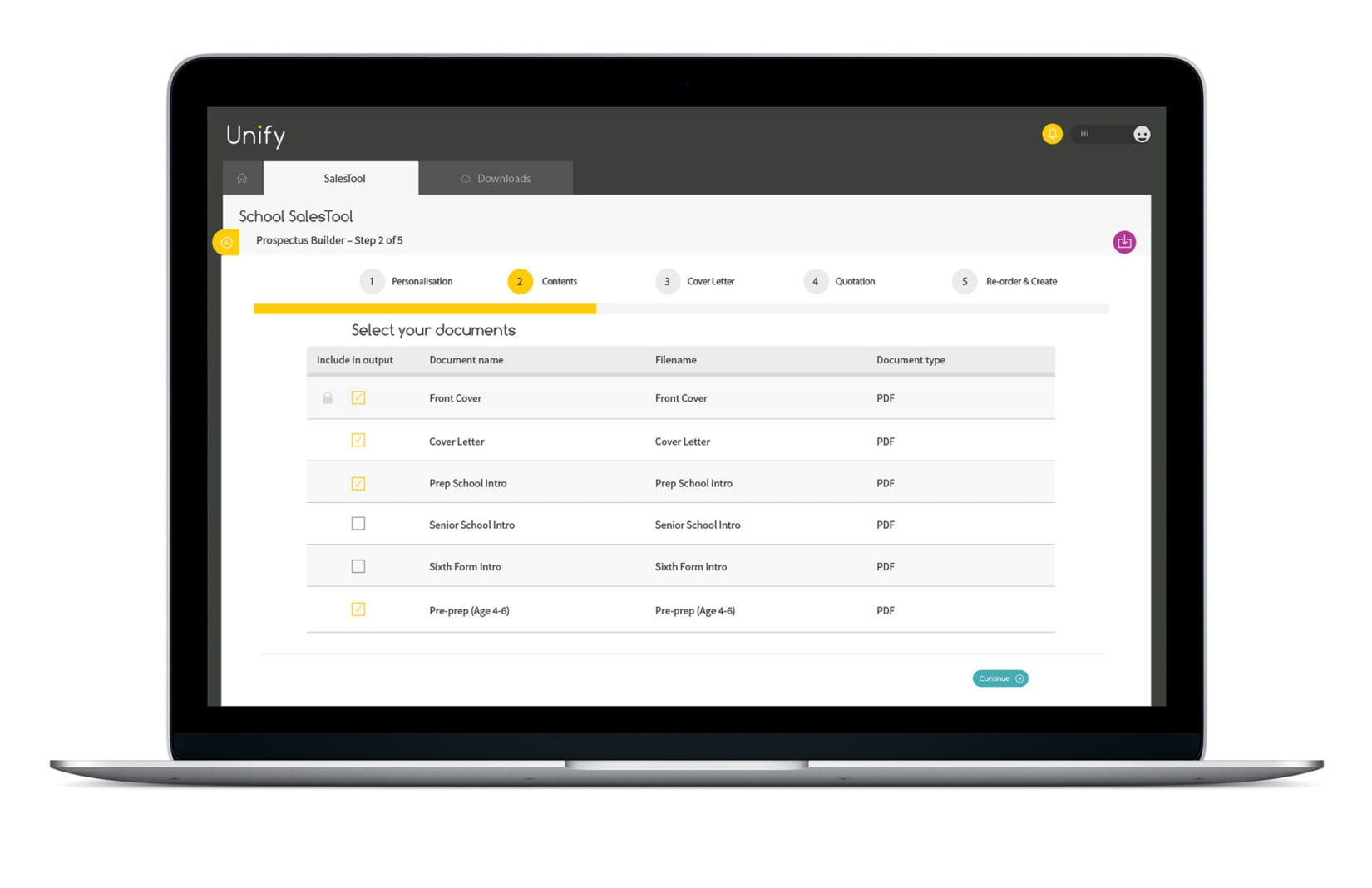 Unify gives you full control so that every word on a covering letter can be set and locked, making sure that everything is always on brand and consistent (no more embarrassing spelling errors).
However, there's an option to allow anyone on your admissions team to add an additional paragraph, maintaining that personal touch on every letter.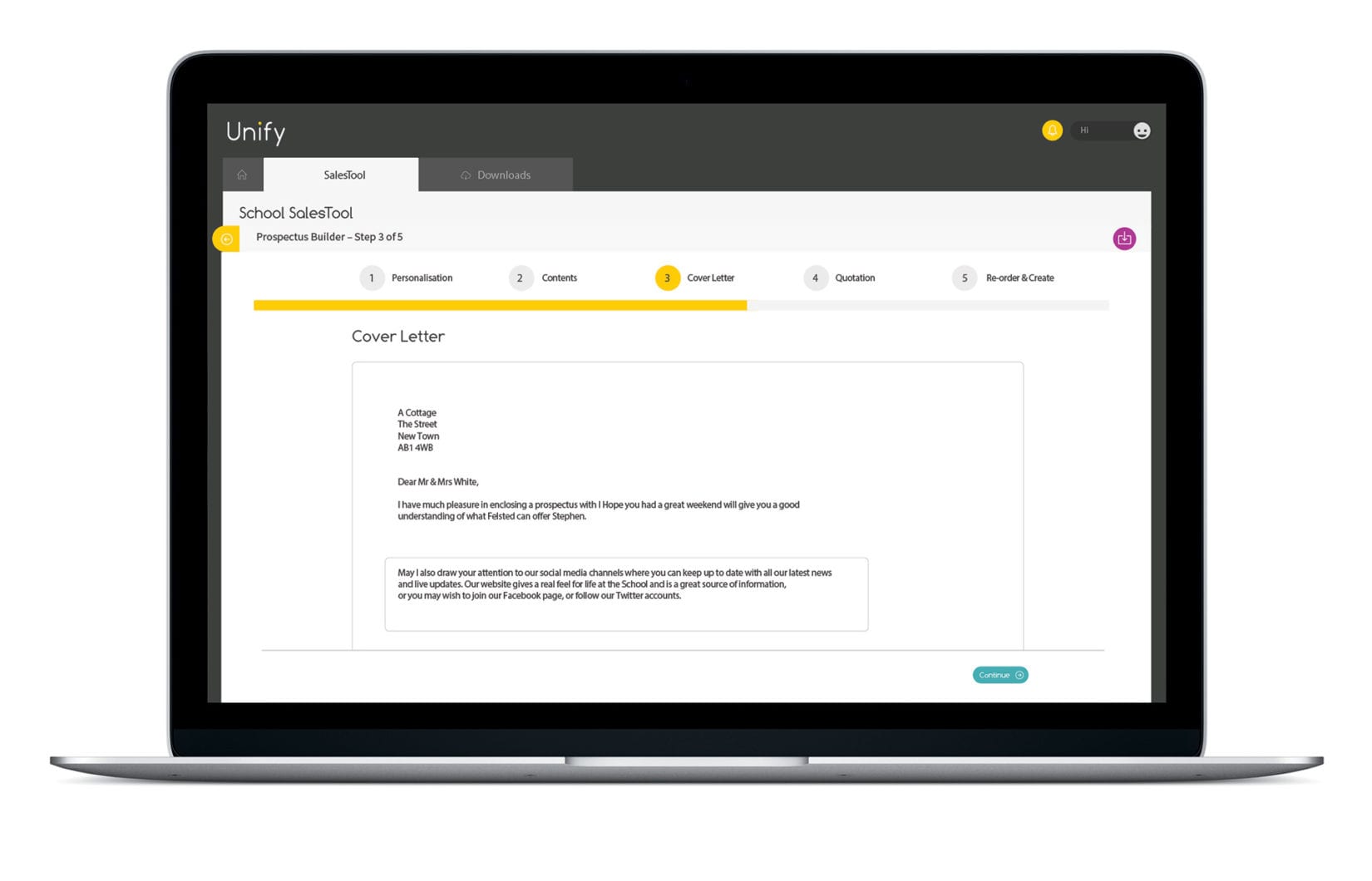 Configure Unify to produce a detailed school fees breakdown for your specific requirements. With comprehensive control of currency, finance options and more, it's simple to add line-by-line options to create
a tailored fee breakdown. Unify can also be set up to automatically pull details and fees linked from choices made in step 2.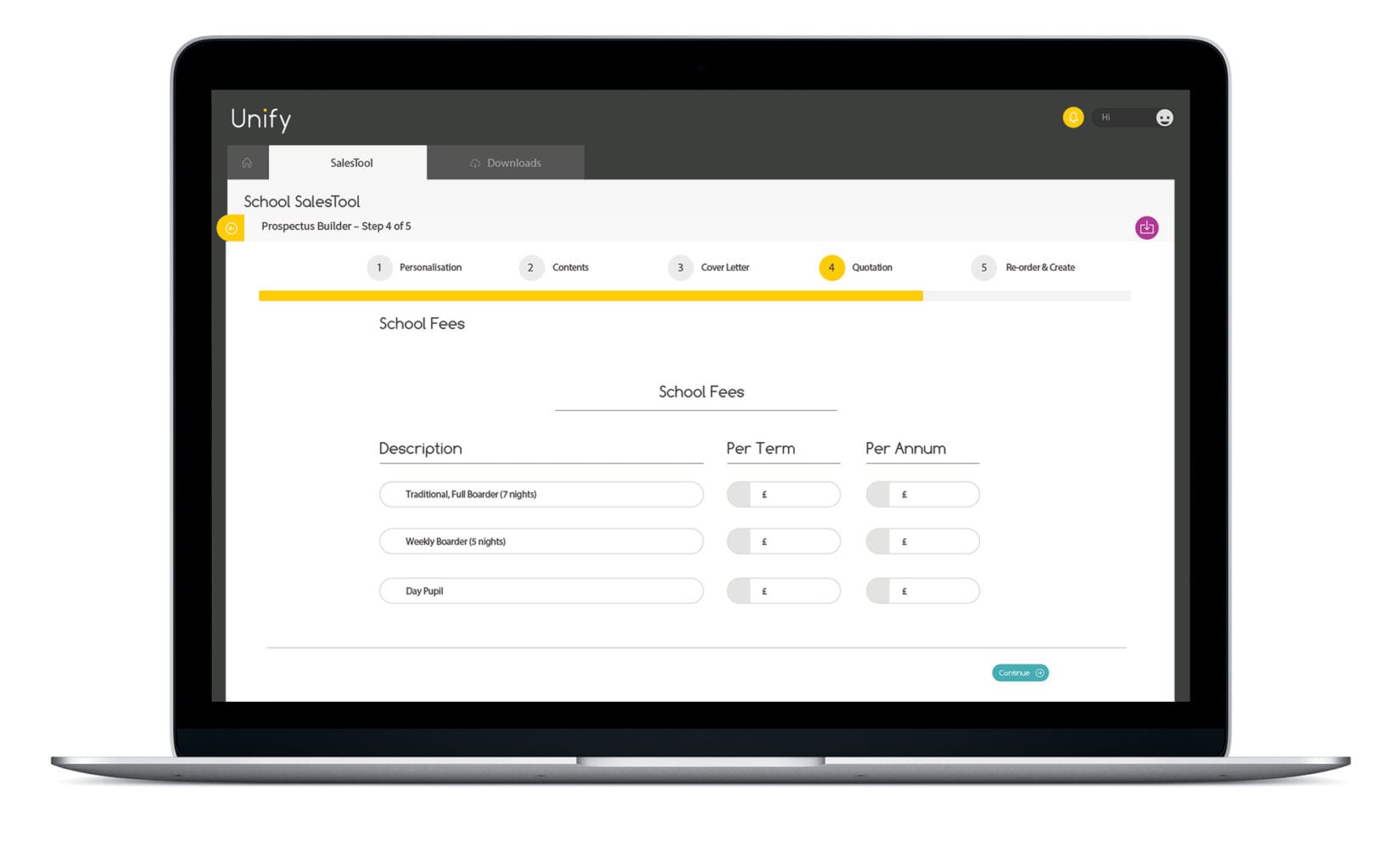 Once you have selected all the pages you require, Unify gives you the option to re-order them to suit your preference. Alternatively, if your admissions process requires that the pages of a prospectus are always in an agreed order, this can be set within the preferences.
Then with the press of a button, your personalised prospectus brochure will be created using the most up-to-date and relevant content stored in your Unify online library.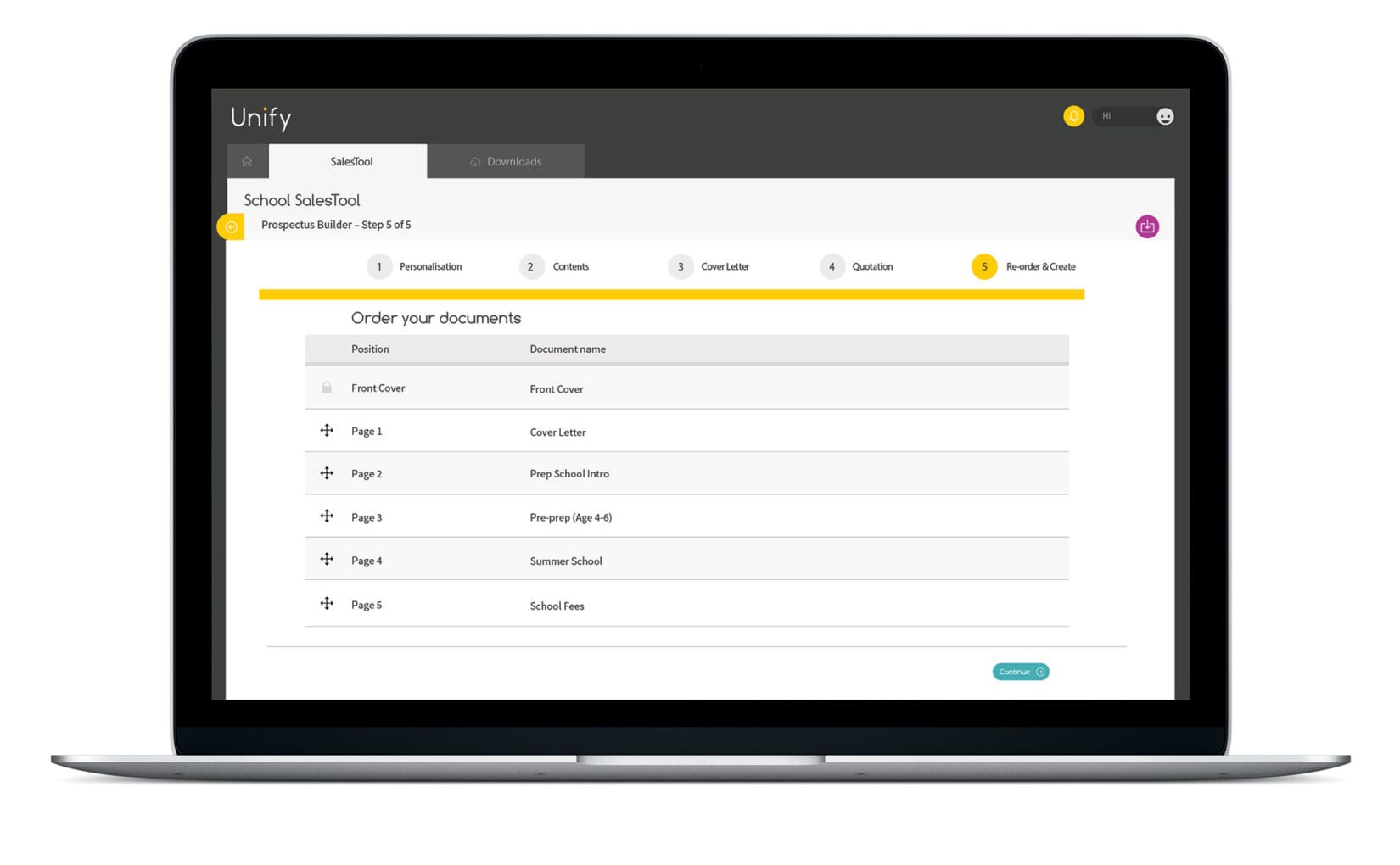 Every 'prospect student' contact is saved in Unify for future reference. If admissions want to make a change it only takes a few clicks to update the details and create a new prospectus brochure.
Unify offers a unique print-on-demand option. Your school can now save money by printing and storing fewer copies of generic prospectus brochures, as it's more cost affective to print a 'one off' personalised prospectus brochure as and when needed.
Admissions and marketing teams will love it because it's easy to use, personal and fast. School Heads love it because prospectus brochures are always on brand and they can track each and every new student.
The benefits are instant. Unify boosts interest from admissions teams, increases conversations and creates an additional talking point when engaging with new students and parents.
Now take a deep breath, you've only seen a fraction of what's possible using Unify.
Always know what you'll pay, no long term contracts.
Includes personalisation on prospectus front and back cover
Cover letter
Standard QuoteTool
Ready for print
Multiple users
Multiple offices
Perfect for smaller teams with 1 office
SalesTool™
Standard QuoteTool™
Ready for print
Multiple users
Multiple users
1 office included
2 users included
Easy to add extra members of staff at anytime
Cover letter
Standard QuoteTool
Activity Log
Multiple users
Multiple offices
What normally follows over the next few days, is your mind will start thinking of ingenious ways that Unify can transform the way you market

your school

.
When this happens,
please give us a call on


01279 732 436

or email us
on

[email protected]
<!--<!-- [et_pb_line_break_holder] --><script><!-- [et_pb_line_break_holder] -->jQuery(window).scroll(function() { <!-- [et_pb_line_break_holder] --> var scroll = jQuery(window).scrollTop();<!-- [et_pb_line_break_holder] --><!-- [et_pb_line_break_holder] --> if (scroll >= 560) {<!-- [et_pb_line_break_holder] --> jQuery(".landingpage-menu").addClass("sticky-nav");<!-- [et_pb_line_break_holder] --> } else {<!-- [et_pb_line_break_holder] --> jQuery(".landingpage-menu").removeClass("sticky-nav");<!-- [et_pb_line_break_holder] --> }<!-- [et_pb_line_break_holder] -->});<!-- [et_pb_line_break_holder] --></script><!-- [et_pb_line_break_holder] --><!-- [et_pb_line_break_holder] --><script><!-- [et_pb_line_break_holder] -->jQuery(window).scroll(function() { <!-- [et_pb_line_break_holder] --> var scroll = jQuery(window).scrollTop();<!-- [et_pb_line_break_holder] --><!-- [et_pb_line_break_holder] --> if (scroll >= 560) {<!-- [et_pb_line_break_holder] --> jQuery("#main-header").addClass("fade-out");<!-- [et_pb_line_break_holder] --> } else {<!-- [et_pb_line_break_holder] --> jQuery("#main-header").removeClass("fade-out");<!-- [et_pb_line_break_holder] --> }<!-- [et_pb_line_break_holder] -->});<!-- [et_pb_line_break_holder] --></script><!-- [et_pb_line_break_holder] -->-->